August 2015 News & Updates
Teen Shows Generosity to CYFS through School Project
On July 15, 2105, thirteen-year-old Connor Klopfenstein presented The Center for Youth and Family Solutions (CYFS) Chief Operating Officer Tony Riordan with a check for $60, money he earned through his paracord bracelet business. Familiar with the agency through his parent's involvement with CYFS as foster and adoptive parents, the Morton Junior High student chose to give back to the organization as a part of a school project. "Fostering and adopting through CYFS has affected our entire family," commented Connor's mom, LeAnne Klopfenstein. "His initiative to give back to those that helped us bring some of his siblings into our family made me very proud."
For the project, Connor set up a website and took orders from friends, family, and members of his church, and made a total of 45 paracord bracelets. "Even though I started this as a school assignment, I wanted to do more by donating a portion of my profits because of everything CYFS has done for our family," said Connor, referring to his brother who was adopted through the CYFS Adoption Program in 2014 and other foster children that the family has cared for.
While Connor took a break from making bracelets over the summer, he is considering starting production again. "No matter how much good you're doing, if others do the same, it adds up to something greater than you could have ever thought," added Connor.
Paracord, also known as parachute cord, is a soft, lightweight nylon rope that was originally used for parachuting. While paracord started out as a parachuter's tool, people quickly recognized its usefulness in other areas. Since the cord is quick-drying, rot- and mildew-resistant, it's great for many purposes. It has several military-related uses, as well as uses for hikers and outdoor enthusiasts alike. To check out Connor's website, visit www.klopinc.weebly.com.
---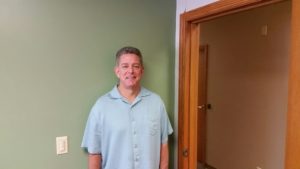 CYFS Names New Director of CQI and Community Relations
Tim Glancy has been named as the new Director of Continuous Quality Improvement and Community Relations for CYFS. Glancy has over 30 years of experience as a social worker, supervisor, and program leader with our agency. In addition to his new role, he will continue his leadership over the Retired and Senior Volunteer Program of Peoria and Tazewell Counties. "Constantly looking at how we can do an even better job is at the heart of CYFS," says Executive Director Trish Fox. "The children and families we serve have experienced significant trauma and we are committed to providing them with respectful and effective interventions to help them heal, cope, and achieve their goals. We are excited to have Tim's leadership in this important role."
---
Get Involved…Make an Investment in Your Community
Looking for volunteer opportunities that will help those in your local area? Did you know that you can do that by getting involved with CYFS? From volunteering in one of our offices, to helping our advancement teams plan fundraisers, to working with the Retired and Senior Volunteer Program (RSVP), to donating to one of our programs, our agency is always looking for those willing to share their time and talents in order to make their communities stronger.
Our current list of opportunities includes:
–Friendly Visitor Program in Peoria
-Advancement Team Community members in Bloomington, Champaign, Danville, Galesburg, LaSalle, Lincoln, Macomb, Peoria, Rock Island, and Springfield to help with community events such as food pantries and to help plan fundraisers like Stock the Cellar, concerts, Run Wild 8K, trivia nights, wine tastings, kickball tournaments, and more!
-Opportunities for seniors with RSVP
-Donations for our Food Backpack Program for Peoria-area school children
For more information on how you can get involved with The Center for Youth and Family Solutions, visit our website, cyfsolutions.wd309.org/get-involved or call our volunteer coordinator, Sue Hirschman at 309-323-6632.