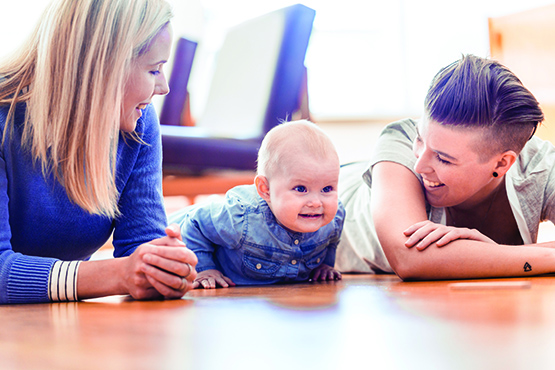 The Center for Youth and Family Solutions is the largest provider of Foster Care Services in Central Illinois, with offices in Bloomington, Champaign, Danville, Galesburg, Peoria, LaSalle, Lincoln, Springfield, Macomb and Rock Island.  The overall goal of the CYFS child welfare program is to keep kids safe and support families to resolve challenges so they can be healthy, stable, and safe.  CYFS provides collaborative, strength-based, client-focused, clinical and casework services.
Our therapists and family workers have been trained in a comprehensive understanding of child development and evidenced-based, trauma-informed treatment interventions. We provide licensing, training and ongoing support to foster families who provide children with a safe haven during a time of crisis.
At CYFS, we work with families to change the circumstances that led to their children being placed in foster care. Our goal is reunification whenever possible, and connecting children to family.  When a youth is not able to be safely reunified with their biological family, we work with them to identify an alternative permanency option that is able to safely meet their needs.  Therefore, we work collaboratively with parents to assess their strengths and needs, set goals for change, find needed resources, improve parenting skills, and make the changes required to provide a safe, stable and nurturing home for their children. When a safe reunification is not possible, we find loving adoptive parents to provide each child with a lasting family.
Our Foster Care Services Include:
TRADITIONAL FOSTER CARE
SPECIALIZED FOSTER CARE
MEDICALLY COMPLEX
FOSTER PARENT RECRUITMENT
ADOPTION CONVERSIONS – See Adoption Conversion – Adopting a Child Placed in Foster Care with You
The children referred to The Center for Youth and Family Solutions for foster care placement have been removed from their homes by the Illinois Department of Children and Family Services due to abuse and/or neglect. The families are referred to us at a time of crisis and the children need a safe, stable place to stay until either their family is able to be reunited or another permanent living arrangement can be made.
The foster children CYFS serves:
Are children of all ages
Are brothers and sisters
Come from a variety of different ethnic, racial, religious, and cultural backgrounds
Have been traumatized by the situations that brought them into foster care
Have special behavioral, social, medical, educational and emotional needs
Need a loving and stable family to care for them in a time of crisis
Need someone to show them they matter and help them continue to grow, learn, and develop their potential.
For more information on the types of foster care offered through CYFS, please review Types of Foster Care.
Foster Parent Law Implementation Plan
In keeping with the vision of The Center for Youth and Family Solutions and the Foster Care Program, CYFS is invested in upholding the Foster Parent Law (Public Act 89.19). Licensing staff take a copy of the Foster Parent Law Implementation Plan and the CYFS Grievance Policy to each foster home during the first monitoring visit of the calendar year. Both documents are reviewed with the foster caregiver and any questions or concerns are addressed. The caregiver then signs off that they have received a copy of the plan so the agency can document all foster caregivers receive a copy with an explanation each year.The biggest change for 2017: On May 25, 2016, the General Assembly passed a bill promoting increased "normalcy" for youth in care. It was signed into law on August 19, 2016, and becomes effective June 1, 2017. This law allows foster caregivers to make decisions for youth in their care, according to the standard that any "reasonable and prudent parent" would make a decision regarding their own child. This is significant to everyone on the child welfare team because we anticipate that, to the extent legally possible, the bill will eliminate some of the existing bureaucratic barriers to providing youth in care with normal childhood experiences. It will increase both the rights and the responsibilities of foster caregivers in some manner. However, as with other responsibilities, the entire CYFS foster care team will be there to guide and support caregivers in this newly- defined responsibility.
Comments or suggestions can be made by contacting the Director of Licensing and Adoption, Mary Kay Collins at 309-323-6651 or mkcollins@cyfsolutions.org.
To review the Foster Parent Law Implementation Plan, CLICK HERE.
Foster parents licensed through CYFS are caring, compassionate, diverse families who have chosen to share their lives through fostering for many reasons.
The foster parents CYFS partners with include couples and singles who:
have raised their own children, but they feel they still have much to give to another child
are currently raising a family and want to help other children in need
have never parented, but have room in their home and their hearts for a child or sibling group
believe all children deserve to grow up in a family setting where they are loved and nurtured.
want to make a big difference in the life of a child
Find out more about how to become a foster parent or contact the foster licensing program for more information.
To learn more about the need for foster parents, please visit Voices 4 Kids, and Keep Your Family Strong.