Achieving Solutions Together
THE CENTER FOR YOUTH AND FAMILY SOLUTIONS PRESERVES CRITICAL SERVICES FOR THOUSANDS ACROSS THE STATE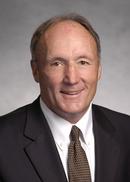 "Being a part of the team that established The Center for Youth and Family Solutions was one of the most rewarding projects of my life," says Michael Drymiller, CYFS Board President and Financial Advisor for Northwestern Mutual Life. "It was truly inspiring to see passionate, caring people come together to solve a problem, especially when the end goal was to maintain the continuity of care for literally thousands of already very vulnerable foster children. I am honored and humbled to be a part of this solution."
In the Fall of 2011, four other compassionate, civic-minded individuals joined Mike on the original CYFS Board to help create The Center for Youth and Family Solutions, a new human service agency responding to a critical child and family services crisis in Central Illinois:
Michael O'Melia, Professor of Social Work, St. Ambrose University
Julie Ramlo-Hohulin, Director of Business Development/Marketing, Soderstrom Dermatology and Skin Dimensions
Janet Mathis, Executive Director, Renew Moline
Jeff Myers, CFO, Prepared Insurance
They have since been joined by Jane Ohaver – a Peoria area attorney – and help guide staff to fulfill the agency mission. The Center for Youth and Family Solutions has a unique and inspiring story, driven by a profound commitment to serve children, families and communities in need. Most of all, we have an enduring faith in the human spirit, and believe that with collaboration and support all people have the capability to solve their problems. Over the course of the next year, we anticipate that we will serve over 20,000 children and families in need across 37 counties throughout Central Illinois.
The founders of The Center for Youth and Family Solutions believe in the enduring strength, creativity, and perseverance of the human and community spirit, even when faced with seemingly insurmountable problems and crises. This new, nonprofit agency, a comprehensive social service organization, was incorporated in the fall of 2011, when child welfare stakeholders in Illinois were grappling with changes to the legal landscape following the inception of the Religious Freedom Protection and Civil Union Act in June 2011.
State contracts with certain faith based agencies, that had historically served thousands of children in foster care in Illinois, were ending. In some parts of the state, large, faith-based providers were making decisions to end all social service programs supported in whole or in part by state or federal funding. Communities across central Illinois were facing a potential severe service gap, meaning critical services for thousands of children and families were at risk of disappearing. A solution had to be found.
This group of committed civic leaders were convinced there had to be a way to protect these children from any further disruptions in their lives, and to assure that the social service safety net for thousands of families was not dismantled in central Illinois communities. In dialogue with relevant public and private state and community stakeholders, a solution emerged. The Center for Youth and Family Solutions, a new, independent, not-for-profit human service agency, was formed, and committed itself to welcoming and serving everyone. The CYFS was tasked with facilitating a seamless transition of critical social services for children and families.
Collaboration and Partnership
As the newly formed Board and appointed agency directors started the process to obtain the necessary 501©(3) designation, child welfare agency license, COA accreditation, and to secure new state contracts. They were inspired by the number of people and organizations who believed creating the new agency was the right thing to do and offered to help make this vision a reality.
The Center for Youth and Family Solutions would not be here today if it weren't for its very first supporters, like The Community Foundation of the Great River Bend, the Doris and Victor Day Foundation, The Moline Foundation, The Rock Island Foundation, and many other caring individuals, organizations, and businesses, that from the very beginning endorsed the solution and showed their belief in the human and community spirit. Seamless transitions for clients would not have occurred without the help of twenty United Ways across Central Illinois, that showed their commitment by transferring allocations for providing critical programs and services to the experienced staff of The Center for Youth and Family Solutions.
On March 1st of 2012, The Center for Youth and Family Solutions began contracting with the Illinois Department of Children and Family Services and the Department of Human Services in the areas of child welfare, residential services, youth and community intervention, behavioral health and senior services. CYFS also offered jobs to 388 Central Illinois employees who brought with them decades of expertise and assured continuity for all the clients served.
Compassionate Partners in Change
In the end, all parties were driven by a commitment to the welfare of the children and families in the communities where we live and work each day. This unique solution was a testament to the enduring strength in each of us and in our communities. When the greater common good is the goal, our wonderfully diverse and ever changing society can overcome complicated challenges.
The same core values that led to the creation of The Center for Youth and Family Solutions guide our work today as we partner with children, families and communities who have faced critical challenges in life. In every situation, we focus on the innate strengths of all people with whom we work. Furthermore, we treat everyone with dignity, compassion and respect. We also demonstrate that with the right support and resources all people can achieve solutions in their lives.
Our Mission Is Clear
The Center for Youth and Family Solutions engages and serves children and families in need with dignity, compassion, and respect by building upon individual and community strengths to resolve life challenges together.
We welcome all to join us in our journey.