Happy Thanksgiving from The Center for Youth and Family Solutions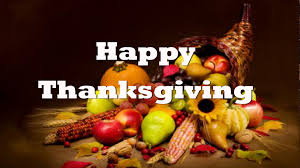 The Center for Youth and Family Solutions wants to wish you a Healthy and Happy Thanksgiving! At CYFS, we are thankful for many things, especially our dedicated staff and those who support us in our work to help children and families in need. As a friend of our agency, we want you to know how grateful we are to you for your support.
Reminder, Giving Tuesday is December 2nd.
How are you celebrating?
Our Giving Tuesday goal this year is to raise money for our Backpack Nutrition Program for School Children. Did you know that there are 21.5 million children in our country receiving free or reduced meals through the National School Lunch Program, and many of them often go without nutritious food over the weekend? Through the Backpack Nutrition Program, we provide nutritious meals to local children in need, to sustain them over the two days. What better way to give back to your community than with a donation that will help these children have something healthy to fill their bellies over the weekend? For just $150 a year, you can help us provide a child with an entire school years' worth of weekend meals.
Prefer to help local kids in another way? We're always in need of new hats, gloves, and scarves to keep the ears and fingers of those we serve warm and toasty! Stop by your local CYFS office on Giving Tuesday to drop of your donations.
To donate to the Backpack Nutrition Program, visit https://www.cyfsolutions.org/services/donation/!
Thank you for your support and generosity!