Fall 2014 News & Updates from CYFS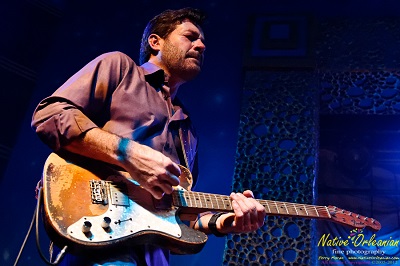 CYFS Adds More Reserved Seats to Accommodate Early Ticket Demand
With just over a month to go before Tab Benoit and The Kris Lager Band hit the stage at Peoria's Limelight Eventplex, The Center for Youth and Family Solutions (CYFS) is excited to announce that due to an overwhelming demand for tickets, we have added 100 more reserved seats for Blues for a Cause, Presented by Howard & Howard. The newly added reserved seats are available online or through the Limelight box office for $25 prior to the December 19th show, and will increase to $29 the night of. "We are really encouraged by the early ticket sales and we're happy that we can add more seats for our audience to enjoy this great show," said Tony Riordan, CYFS COO. A very limited number of VIP tickets are still available, along with loft seating and general admission. "There really isn't a bad seat in the house, so whether you buy reserved seats, VIP, loft tickets, or general admission, you're going to get a great view of these bands," added Riordan. Tickets range from $20 to $35 prior to the show and from $24-$35 at the concert. Blues for a Cause, Presented by Howard & Howard benefits local children and families in crisis served by CYFS. For more information on the concert, visit our website or call 309-323-6600.
Crisis Intervention Program Helps Teen's Relationship with Family and Friends
Angela* came to the attention of the staff in the CYFS Youth, Family, and Community Outreach Services (YFCOS) after local police picked her up on a curfew violation. She had run away from home and was wandering the streets at 1:00 a.m. Workers from the CYFS Crisis Hotline responded and helped Angela return home to her family within a few hours.
It wasn't the first time fourteen-year-old Angela had run away from home, but it was the first time law enforcement had intervened. For six years, Angela and her siblings were bounced around between family members' homes, while their mom served time in prison, a fact that they kept a secret. Though the family tried to take care of the siblings, Angela's ongoing behavioral issues made it hard for them to manage her. When Angela's mom got out of prison and told her where she had been, Angela's anger intensified and her feelings of being unwanted and betrayed increased. Her anger issues began erupting at school and at home with her two siblings. Her mother expressed deep concern that Angela could be at risk for entering the juvenile justice system if her behavior didn't change.
Her YFCOS caseworker recognized that Angela wasn't a "bad kid," but her issues were escalating, and it was time for the family to start getting the help they needed. Angela and her mom and siblings started counseling through the CYFS Counseling Program where they all learned the tools to communicate more effectively as a family. Her caseworker also helped her identify triggers that prompted outbursts and helped her develop positive coping mechanisms for her anger. As a result of counseling, work with her caseworker, and an after-school tutoring program, Angela's grades have gone up and her guidance counselor has reported a significant improvement in her behavior. Most notably however, she has remained home, developed a better relationship with her family, and has not run away in over six months. Her caseworker says Angela has come a long way, and remarks that she's a "totally different kid" than when I first met her.
The major focus of the CYFS Youth, Family, and Community Outreach Services is to offer youth, ages 10-17, prevention, diversion, and intervention services to stabilize families in crisis, prevent juvenile delinquency, and diversion from involvement in the child welfare or juvenile justice systems. The primary purpose of the Comprehensive Community Based Youth Services is to provide at-risk youth like Angela with a continuum of services according to their needs, with the overarching goal of family preservation, reunification, independence, and diversion from the juvenile justice system. In FY2014, 94.8% of the runaway youth and their families served by our program met the goal of being deterred from DCFS custody. For more information, contact YFCOS staff in your area.
*Name has been changed
CYFS Launches Twitter Account
The Center for Youth and Family Solutions has launched our official twitter account! Starting this week, we will use the account to expand our social media and web presence. We will be tweeting agency information and updates related to our programs and services, along with interesting information related to children and families. CYFS encourages everyone to follow us at @CYFSolutions to stay updated on the latest from our agency! You can also check out updates from us on our website and Facebook page!
Woodard Joins CYFS Board of Directors
The Center for Youth and Family Solutions is proud to announce the appointment of Jeff Woodard to our Board of Directors.
Woodard is the Director of Marketing and Public Affairs with the McLean County Museum of History, a nationally accredited award winning museum located in Bloomington. He has been with the museum since 2005 and previously worked for Mitsubishi Motors. "Jeff's experience in public relations, marketing, non-profits, fundraising, and event planning, along with his active participation in the Bloomington/Normal community, including our Bloomington office's advancement team, makes him a great addition to our board," said Janet Mathis, Board President. "On behalf of our board members and our agency, I would like to welcome Jeff to the board."
Woodard joins our Board of Directors, which is made up of a knowledgeable and committed group of civic leaders with a long history of service in human service organizations, human service administration, social work practice education, finance, communication, non-profit community boards and foundations, non-profit development, economic development, and public policy. In addition to Woodard, the board consists of President Janet Mathis, Vice-President Jane Ohaver, Stan Lynall (Finance Committee Chair), Julie Hohulin, Michael O'Melia, Kris Garrison, and Michael Drymiller.
Thank you to Our Supporters
Archer Daniels Midland Company recently donated $15,000 to The Center for Youth and Family Solutions. The donation will go toward the purchase of meals for the CYFS Food Backpack Nutrition Program for school children. CYFS piloted the program this summer at Robert A. Jamieson School and has continued providing food to approximately 35 kids throughout the first semester. The agency is working with District #150 to determine which additional Peoria schools will participate in the program. We anticipate that through this new donation, we will be able to begin serving additional schools and potentially up to 100 more children this year.
We would also like to thank the organizers of the John Deere Classic, Birdies for Charity for their donation of $1,531 to our agency for the children and families being served by our Rock Island office. The 2014 golf tournament helped raise a total of $6.33 million for 471 local and regional Quad Cities' charities.
Last but not least, we'd like to thank the members of our local communities for their support of our various outreach activities this fall. Through your generosity, we are able to continue spreading the word about CYFS programs and services, and to intervene and help abused and neglected children grow up in nurturing and stable families, provide interventions that work to divert at-risk youth and runaways from trouble, help families cope with challenging issues, and help seniors maintain their independence.
For information about opportunities for involvement with our agency, visit get involved.