The Center for Youth and Family Solutions Prepared to Provide Counseling Services to Tornado Victims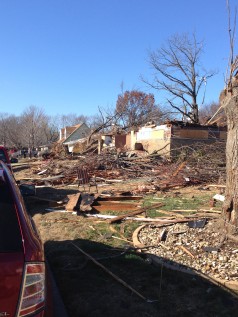 In the days directly following November's EF-2 and EF-4 tornadoes, many area residents looked for ways to help their neighbors recover from the devastation. Whether through monetary donations, food, shelter, physical labor, or a shoulder on which to cry, the people of Central Illinois showed their true colors by helping those in need. To make it easier for those affected by the tornado to access disaster-related relief services, the Tri-County Long-Term Recovery Committee (LTRC), initially formed to assist victims from last spring's floods, established a Multi-Agency Resource Center (MARC) in Washington. Several Counseling and Senior Services Program staff from The Center for Youth and Family Solutions volunteered at the "one-stop shop," providing information and assistance to victims.
While the initial outpouring of generosity after the tornadoes was significant, it is important not to forget the healing and rebuilding process that lies ahead of the individuals and families from the affected towns. In addition to establishing the MARC, the LTRC is also focused on strengthening the coordination of services to victims, simplifying access to resources, and tending to residents' unmet needs. Representing our agency on this committee is Therapist Kristen Leman, LCSW, who in addition to working at the MARC, also provided disaster mental health services at the Crossroads United Methodist Church in Washington. She noticed many people at the MARC merely gathering information. "Many folks weren't ready to talk about what they had gone through because it was still too fresh and they were focused on getting their immediate needs met," remarked Leman. She added however that, as the shock wears off, many will seek counseling to work through the trauma. With the potential for an increase in those seeking services for mental health, grief, and community counseling, as well as seniors in need of assistance, our agency is prepared to provide professional help to those who may be experiencing any ongoing trauma.
We know that as a community, it will take everyone to help rebuild and regain some sense of normalcy after such a tragedy. With some of our own clients and employees affected by the tornadoes, we are strongly committed to the continued recovery efforts and we are proud of the staff who have stepped up to help their family, friends and neighbors.
If you or someone you know is struggling with feelings of depression or anxiety as a result of November's tornadoes, there is help. To speak with a counselor, please call us at 309-323-6600 or for more information about all of our programs, visit our Services page.
To learn more about our story, visit our About Us page.