News and Updates from CYFS
It's Time to Run Wild
Registration is now open for the 2015 Run Wild 8K and Wild Mile Fun Run presented by The Center for Youth and Family Solutions (CYFS)! Join us at Wildlife Prairie Park located at 3826 N. Taylor Road in Hanna City, on Saturday, June 13th at 8:30 a.m. for the third annual trail run through the backwoods of the park (read more).
Register online for the 8K for $35 or the Wild Mile for just $10—if you register by May 31st, you'll be guaranteed your shirt size! Race registration will also be available the morning of the race for $40. For more information, please visit our website, https://www.cyfsolutions.org/photo_archieve/run-wild-8k-and-wild-mile-2015/.
Event Shirt (dry-fit for 8K, cotton t-shirt for Wild Mile)
Awards
Give-aways
Music, Food, and Drinks
FREE activities for kids before and during the race
Proceeds from the race will benefit the CYFS emergency needs fund for kids and families in the Peoria area.
Hope to See You There!
---
CYFS AWC "Alum" Continue Giving Back
This March, several of our offices received a special delivery for over 100 children in the CYFS Foster Care Program. Our Springfield, Lincoln, and LaSalle offices all received care packages courtesy of Adopt Waiting Children alums and QC Closet2Closet founders Amber and Amy Haskill. Each bright red and yellow bag contained clothes, accessories and personal items picked out specifically for them by the Closet2Closet team.
QC Closet2Closet is a non-profit organization that provides free, gently used and current style, age-appropriate clothing and accessories to foster children ages 10-18. Starting out, the organization set specific shopping events in the Quad Cities area, and local foster children who had been referred, were invited to attend and pick out clothes and accessories. Amber and Amy and their family started the organization as a way to give back after the Haskills adopted the twins from the CYFS Foster Care-AWC Program in 2012. "They want to give foster children choices and variety in what they wear, because they know what it's like not to have great options, and how great it feels when you get to pick out your own things," said Alli Haskill, Amber and Amy's mom.
Now, with over 8,000 pieces of clothing and accessories in their inventory, the organization is also able to put together care packages for foster children who live outside of the area. Already partnering with our Rock Island office for shopping events, Alli Haskill contacted CYFS to inquire about packages for offices outside of the Quad Cities. Local staff were overwhelmed by the generosity of the deliveries. "We weren't sure what to expect when we accepted the offer, but this is really special and we're thrilled to be able to give our kids their care packages," said Diane Rankin Secretary at the CYFS Lincoln office.
In addition to Amber and Amy, brothers Liam and Logan also have roles in the organization. Liam serves as a group spokesman to raise community awareness of the organization's existence and Logan is in charge of inventory, and helps with shopping day set up and tear down and "tagging events" when merchandise gets labeled with clothing sizes for quick reference. They also work with several community volunteers. In the past two years, the organization has grown significantly, increasing its inventory and serving over 160 children.
The CYFS Adopt Waiting Children Program is designed to help families prepare to adopt older waiting children currently in foster care. These children generally range from age 7 through 17, have suffered abuse and/or neglect and need loving adoptive parents who have a passion for providing unconditional love and support.
To learn more about QC Closet2Closet, email qccloset2closet@gmail.com or mail requests or contributions to QC Closet2Closet, PO Box 6838, Rock Island IL, 61204-6838.
---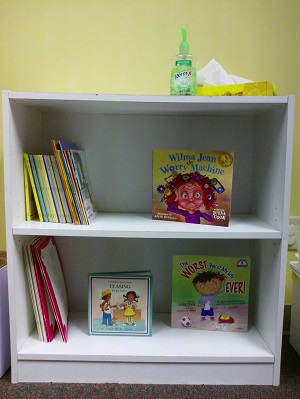 CYFS Receives Grant for Bibliotherapy Library
The Bi-State Literacy Council recently awarded the Rock Island CYFS office a $500 grant to expand our bibliotherapy library for the Comprehensive Behavioral Counseling Program. The funds will be used to further develop the CYFS library, which currently consists of around thirty books. CYFS family therapists will stock the library with books featuring multicultural characters from a variety of backgrounds to help children relate to the stories, and with the help of their therapist, apply the themes to their own lives, in order to work through issues.
Bibliotherapy is a therapy method of helping children and families through difficult emotional and relationship issues. Books chosen for the library are written in a fashion to help children foster self-acceptance and resilience, as they build on their personal strengths with their family. "Books are an excellent starting ground to discuss pertinent issues, while relatable characters let children know that they are not alone and often normalize the troubling experience," says Marriage and Family Therapist Jennifer Welvaert-Koch. "Stories also serve as a safe haven to problem solve and explore alternative behaviors in a non-judgmental, predictable way," adds Welvaert-Koch.
The CYFS Bibliotherapy Library will be housed in the Comprehensive Behavioral Counseling Program play therapy room, and will be available for use by both counseling clients during sessions as well as to children and families in during foster care family visits.
---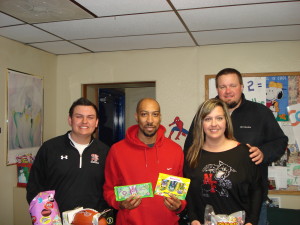 Guardian Angel Home Residents Receive Easter Baskets from Area High School Student
High school senior Blake Myers recently completed a school project benefiting Guardian Angel Home (GAH). As part of an English class assignment that challenged students at Cuba High School to do something they had never done before, Blake chose to gather items for Easter baskets for the boys living at GAH in Peoria. His desire to help those in need came from a trip to Chicago where he witnessed the large number of people living on the streets. The experience weighed heavily on him, and Blake knew when the teacher assigned the project, that he wanted to do something to help others.
To fill the baskets, Blake collected sporting goods, games, toys, DVDs, books, art supplies, socks and personal hygiene items for the youth living at the residential facility. He started out just asking family and friends, but branched out even more to other members of his community through church, social media and local businesses. "This project helped Blake step out of his comfort zone and realize the impact that one person can make," said Angie Myers, mother of the normally shy teenager.
The week before Easter, Blake met with GAH staff to deliver the baskets. Inspired by the generosity of those that helped him with the project, Blake plans to continue supporting GAH in the future. "I couldn't believe how much people are willing to help if you just ask," exclaimed Blake. "The more I learned about CYFS and the work they do, the more I realized how important family support is, and the more I appreciated my own family and home," adds Blake.
Blake Myers GAH Donations
Blake Myers stands with donations he collected for GAH
Guardian Angel Residential Program for Youth serves boys ages 6-18 who have experienced significant trauma in their lives. Comprehensive treatment services are provided with close supervision in a supportive living arrangement.